#TanaForum #TanaOnline #AfCFTA
Forum | 19 -24 October 2020 
TANA PAPERS 2020
The African Continental Free Trade Area (AfCFTA) seeks to promote socio-economic development, regional integration, and peace. However, it is being developed in a context where free trade seemingly exacerbates inequality and hinders democracy. Although the agreement establishing the AfCFTA makes little reference to human rights, this policy brief suggests that situating human rights more firmly within it may render it more human-centered and, thereby, address some of the concerns that a narrow focus on international economic law tends to ignore . . . . .
SPSA 2020
Executive Summary of the State of Peace & Security in Africa Report 2020
Six major conflict themes dominated the peace and security landscape in Africa in 2019, namely armed insurrections, everyday violence, human development challenges, xenophobia, environmental change and governance. Taken together, these themes produced various dynamics that make apparent the resilience of familiar challenges as well as the new ways they threaten security on the continent . . . . .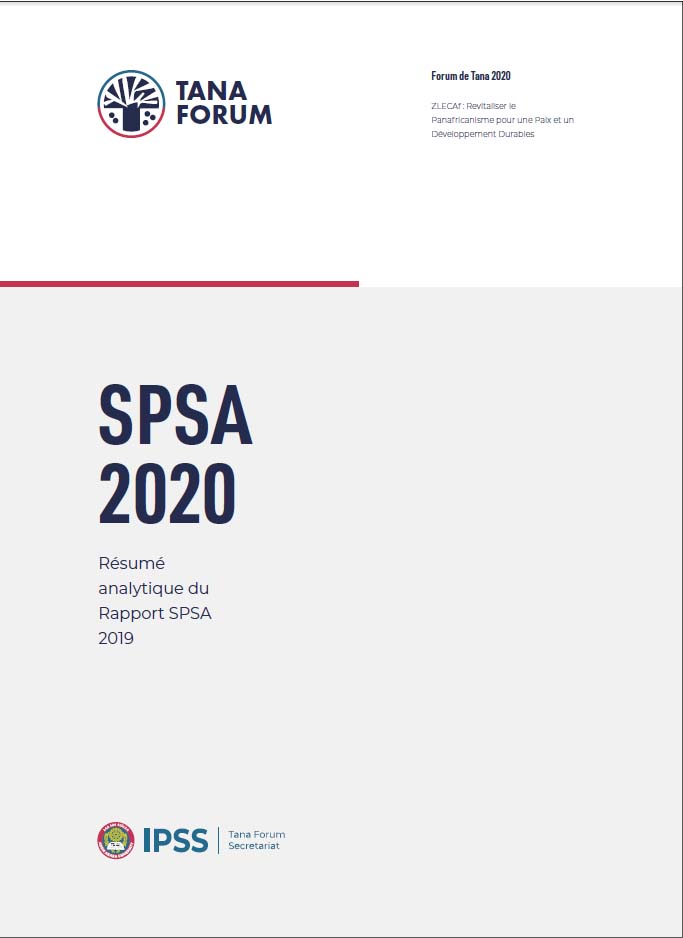 SPSA 2020
Résumé analytique du Rapport SPSA 2019
Six grands thèmes de conflit ont dominé le paysage de la paix et de la sécurité en Afrique en 2019, à savoir les insurrections armées, la violence quotidienne, les défis du développement humain, la xénophobie, le changement environnemental et la gouvernance. Pris ensemble, ces thèmes ont produit diverses dynamiques qui font apparaître la résilience de défis familiers ainsi que les nouvelles façons dont ils menacent la sécurité sur le continent . . . . . .
Africa First!: Igniting a Growth Revolution
What stops Africa, with its abundant natural resources, from capitalising on its boundless potential? Well-known Africa analyst Jakkie Cilliers uses 11 scenarios to unpack, in concrete terms, how the continent can ignite a growth revolution that will take millions out of poverty and into employment.
. . . . .
L'Afrique d'abord ! Révolutionner la croissance
 L'Afrique a un potentiel extraordinaire en matière de croissance économique et de développement. Cependant, ses nombreux projets et ses nobles objectifs se traduisent rarement dans les faits. Dans son dernier livre, Africa First!, Jakkie Cilliers se penche sur la trajectoire actuelle de développement du continent et explique comment exploiter son potentiel. Il présente un scénario ambitieux mais réaliste à l'horizon 2040, qui prévoit des améliorations en matière de croissance économique, de revenu moyen et de réduction de la pauvreté. Cette note d'analyse en propose la synthèse. . . . . .
A LIST OF USEFUL LINKS AND CONTACTS